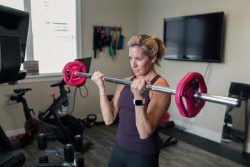 When it comes to Personal Training in Holly Springs, you have a few options. There are some good trainers in town but here is my philosophy on Personal Training and Group Fitness:
I'll work out with you and train you for optimal results
I'll teach you how to increase your metabolism and make your body burn its own fat for energy
I'll show you how to tone your muscles, increase strength and energy, strengthen your bones and feel great
I'll listen when you tell me you can't, and I tell you YOU CAN!
Personal Training $65/hr
You can come to the TransformU Home Gym in Holly Springs, NC or I'll come to you – Personal Training in the convenience of your own home or work place!