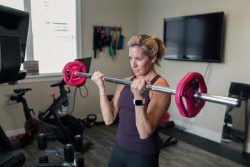 When it comes to Personal Training in Holly Springs, you have a few options. There are some good trainers in town but here is my philosophy on Personal Training and Group Fitness:
I'll work out with you and train you for optimal results
I'll teach you how to increase your metabolism and make your body burn its own fat for energy
I'll show you how to tone your muscles, increase strength and energy, strengthen your bones and feel great
I'll listen when you tell me you can't, and I tell you YOU CAN!
Personal Training $100/hr
You can come to the TransformU Home Gym in Holly Springs, NC or I'll come to you – Personal Training in the convenience of your own home or work place!
Swimming for Fitness
I am an American Red Cross Certified Swim Instructor, Lifeguard, Lifeguard Instructor, and CPR Instructor and owned WML Aquatics LLC for 12 years, which is an American Red Cross training company that certifies students in Health and Safety Classes. I have owned the company since 2006 and have been an instructor since 1996. In college, I was a Lifeguard for the Dept of the Navy in San Diego, CA and taught swim lessons to students of all ages from young children to seniors how to swim. From there I branched off into fitness-related swimming to help triathletes learn:
Better breath control for distance swimming
Speed & performance drills for timing
Stroke refinement which incorporates hydrodynamic principles for breathing & timing allowing for a more fluid stroke.