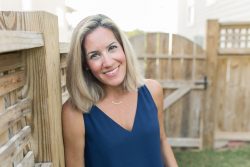 I am Wendie Lubinsky, the Owner and CEO of WML Wellness in Holly Springs, NC. I am a certified Personal Trainer, Group Fitness Instructor, Nutrition Coach, Weight Loss Coach, Life Coach & Mental Toughness Coach – I can help you get through all your obstacles regarding your nutrition and weight goals by helping you uncover the underlying problems that promote bad habits.
My whole health counseling company specializes in wellness for the mind and body from the inside out. I believe in a holistic approach to wellness which means you can't fix just one thing about yourself in order to achieve wellness. Mental Healthiness is a compliment to your fitness and nutrition goals and everything works together! There is a mind – body connection that needs to be discovered in order for change to happen. When we understand why we think and feel the way we do, action can be taken to modify behaviors. If we fail to recognize what the underlying problem is we continue to repeat bad patters and maladaptive coping.
We all have goals for ourselves and sometimes it's hard to achieve them; short on time, no support from family and friends, lack of energy, justifying that your goals are lofty and unnecessary. We all struggle to achieve our goals, but I can help with all the reasons WHY your goals are unattainable. If your goal is to lose weight we will start by discussing your relationship to food and your relationship with your body. I can help you with scheduling, support, choosing the right foods to work for YOUR body to help you lose/gain weight, have energy, feel happy and believe in yourself!
We'll start by defining what your goals are and why you have not yet achieved them. Then we will uncover how you got to where you needed to create change and how to achieve change. We will look at your diet and the connection food has to mental health, your medical history so we take into account who YOU are, which differs from everyone else, and then we'll discuss how to integrate healthy coping and life skills to promote wellness. Tools for coping include healthy choices such as exercise, food selection, "me time," boundaries, organization, and planning.
Call me or book online to set up your first session and let me teach you all I know.
917-334-8512 | info@wmlwellness.com