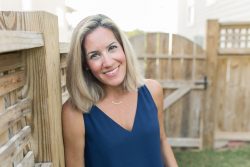 I am Wendie Lubinsky, the Owner and CEO of WML Wellness LLC and Wendie Lubinsky Counseling PLLC in Holly Springs, NC, a Whole Health Wellness Company. I'm a Licensed Clinical Mental Health Counselor Associate, certified Personal Trainer, Nutritional Coach, Mental Toughness Coach, Group Fitness Instructor, and Weight Loss Coach. I am also a PhD candidate at Capella University in Counselor Education and Supervision. I specialize in the combination of Mental Health and physical wellness through Nutritional Counseling and Physical Fitness for a holistic approach to wellness. My experience in the wellness field began with personal training and nutritional coaching in 2001 by helping clients achieve their goals with motivational and goal oriented programs while simultaneously helping them overcome personal obstacles. While working as a personal trainer and group fitness instructor, I obtained my Life Coaching certificate and focused on helping clients achieve a healthy mindset and relationship with food focusing on nutrition and life balance. My combined treatment plan of Whole Health Wellness looks at the mind-body connection to understand why we have physical consequences such as chronic disease when we are not balanced nutritionally, physically, or have an unhealthy outlook on life. My research and experience with eating disorders has led to the whole health wellness perspective and approach to a holistic view of healthcare and wellness. I have continued to work in the field of nutrition, weight management, and mental health to date (19 years) and am excited to continue my journey in the PhD program. In practicum and internship during my masters, I worked at both a neurocounseling and biofeedback office and in a private practice setting with individuals, groups, couples, and families providing services for adolescents and adults. Areas of therapy include behavioral difficulties, depression, anxiety, panic disorders, obsessive/compulsiveness, trauma, relationships, family difficulties, eating disorders, infertility, and sex counseling.
You cannot fix anything in the body; chronic illness or pain, weight gain/loss, fear etc., without looking at the whole person and seeing the affects of daily life. Life can be filled with stress, pressure, hard relationships, responsibilities and present overwhelming challenge. I am here to support you through this journey. Together we will work toward a wellness plan.
Call me or book online to set up your first session for either Counseling or Personal Training and Nutritional Coaching. I do not currently accept insurance but I can produce superbills for out of network coverage.
917-334-8512 | info@wmlwellness.com