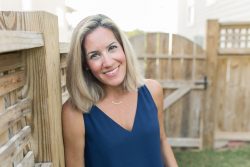 I am Wendie Lubinsky, the Owner and CEO of WML Wellness in Holly Springs, NC. I have completed all CACREP academic requirements from Capella University for the Master's Degree in Clinical Mental Health Counseling and currently working under a CMHC supervisor registered with the NCBLMHC to complete the internship requirements for graduation (projected graduation date of 2021). I have already obtained a Certification in Contemporary Theory in Mental Health Services from Capella University in 2019. I practice Whole Health Coaching with Nutritional Counseling by incorporating physical fitness and nutritional services into the counseling environment for a holistic approach to wellness. I am a Certified Personal Trainer, Group Fitness Instructor, Nutrition Coach, Life Coach, Weight Loss Coach, and Mental Toughness Coach since 2001. I have a Bachelor's degree from the University of California, Irvine in English (graduated 2003). In 2008 I built a company that specialized in American Red Cross Health and Safety Classes that I recently sold in 2019. I continue to volunteer with the Red Cross in Disaster Services as a Mental Health provider. My experience in the mental health field began with personal training and nutritional coaching in 2001 by helping clients achieve their goals with motivational and goal oriented programs while simultaneously helping them overcome personal obstacles. While working as a personal trainer and group fitness instructor, I obtained my life coaching certificate and focused on clients with eating disorders. My research and experience with eating disorders has led to the whole health coaching perspective and approach to a holistic view of healthcare and wellness. I have continued to work in the field of nutrition, weight management, and mental health to date (19 years) and have now expanded my education by achieving an MA in Clinical Mental Health Counseling. I have experience working with individual, group, couples, and family settings providing services for adolescents and adults. Areas of therapy include behavioral, trauma, anxiety, depression, life difficulties, relationships, developmental, family difficulties, eating disorders and sex counseling. I can help guide and support you through all your obstacles regarding your mental health challenges, nutrition and weight goals by helping you uncover the underlying problems that promote bad habits and prevent you from accomplishing the change you desire.
My whole health counseling company specializes in wellness for the mind and body from the inside out. I believe in a holistic approach to wellness which means you can't fix just one thing about yourself in order to achieve wellness. There is a mind – body connection that needs to be discovered in order for change to happen. When we understand why we think and feel the way we do, action can be taken to modify behaviors. If we fail to recognize the underlying problem we continue to repeat bad patterns and perpetuate maladaptive coping. We all have goals for ourselves and sometimes it's hard to achieve them; short on time, no support from family and friends, lack of energy, justifying that your goals are lofty and unnecessary, depression, anxiety, fear, etc. Therapy sessions are dedicated to help you where you need it the most. I practice in individual and family therapy but also enjoy working with couples. Theories I practice are Psychotherapy, REBT, Structural Family Therapy, CBT, Attachment Theory, Exposure Therapy and Cognitive Based Therapies.
Did you know Binge Eating Disorder (BED) affects 60% of Americans and is the leading cause for type 2 diabetes? Most people with BED go undiagnosed and people suffer in silence. I have dedicated the last ten years of my studies to creating new treatment methods for those suffering with food addiction, emotional eating, unquenchable cravings and the symptomatic trauma and stress those with the disorder suffer. My treatment for BED combines all the necessary remediations needed to help control the binge cycle, regain control, learn new healthy coping habits to avoid the first bite or to stop eating, learn how to nourish your body with proper nutrition and the importance of exercise for metabolic health. Check out my weekly BED support group called "Close the Fridge" to get the support you need to change your life. It's easier to change habits when you have friends doing it with you.
Call me or book online to set up your first session for either mental health, personal training, nutrition or for the Whole Health Coaching bundle. I do not currently accept insurance but I can produce super bills for out of network coverage.
917-334-8512 | info@wmlwellness.com