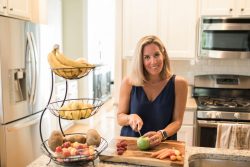 WML Wellness LLC is a Health Coaching Company. I'm a certified Personal Trainer, Group Fitness Instructor, Nutrition Coach & Weight Loss Coach – I can help you get through all your obstacles regarding your nutrition and weight goals by tackling the obstacles that stand in your way, i.e. time restraints, physical limitations, fears, mental blocks or just not knowing how to start. Together we will put a comprehensive, step-by-step plan that is easy for YOU to follow because it will be tailored to YOUR lifestyle. I believe you cannot fix anything in the body without first tackling the mind-body connection. This is why we get a stomach ache, headache, feel unfocused and unmotivated, have chronic illness or pain, gain weight/loss, anxiety, phobias, etc. when we are stressed. On the other end of the spectrum, feeling good and being happy makes us feel healthy, less achy and gives us more energy. I support you by educating and helping YOU create a plan for wellness from head to toe.
If you are interested in Personal Training or Personal Fitness I can help you create a fitness plan that works for your fitness level and fitness goals. We will start by identifying your needs: weight loss, weight gain, maintaining your current weight, and transitioning from a diet or nutrition plan to "normal" everyday eating and fitness. We will reevaluate your workout and nutrition plans weekly and adapt your plan so it is in constant alignment with your goals.
*Please note as a licensed counselor, I cannot simultaneously work with you as both a counseling and nutrition or fitness client. WML Wellness LLC is my company that offers fitness and nutrition. If you wish to do counseling in conjunction with fitness and nutrition I will refer you to one of the specialists I contract with for a holistic approach to wellness.
WML Wellness LLC works with other providers in the area through referral and interdisciplinary collaboration. I work with other clinicians and healthcare workers from eastern and western practices for a holistic approach to wellness to help you achieve your individual goals. The clinicians and healthcare workers I work with are medical doctors, chiropractors, acupuncturists, yoga instructors, massage therapists, physical therapists, other mental health providers, nutritionists, and personal trainers. I am open to other suggestions if you currently work with someone you'd like me to collaborate to meet your wellness goals.
Cost – $150/session